Quality Education
The Canadian education framework has developed as one of the best in the world, with an unquestionable hold in the fields of computers, medicinal services and technology innovation. There are many top-positioned colleges everywhere throughout the nation and the training framework can be especially gainful for students wishing to contemplate transportation, media communications or designing notwithstanding advanced innovation. Students at Canadian schools additionally appreciate open air exercises, present day sports offices and access to craftsmanship exhibitions and show lobbies. One could contend that the scholastic experience accessible in Canada equals those found in the UK or US - and it comes at a lower cost.
Work while you study
Despite the fact that Canada is a generally reasonable choice, there's no uncertainty that concentrating abroad is costly.
Fortunately, global undergraduates in Canada are qualified to work as long as 20 hours out of every week during school terms and full-time (30 hours/week) during planned breaks like summer get-away. Most students need not bother with a work grant to work while they study, regardless of whether their activity is nearby or off grounds. Your study permit will show whether you're allowed to work off campus.
Safety
Another main motivation behind why students decide to come to Canada is close to personal safety. Concentrating abroad can be unnerving, particularly in case you're leaving your loved ones behind. The Institute for Economics and Peace positioned Canada as the sixth most peaceful nation on the planet in 2019. In contrast to most different nations, Canada is truly segregated as far as area. It's secured on three sides by seas, and just offers a fringe with the United States.
Job Opportunities
Canada is one of the largest economies in the world, so there are a lot of working opportunities for graduates. As a student, you have the chance to connect with pioneers in your field. While you study, or after you graduate, you can pick up experience working for industry driving organizations in Canada.
The Government of Canada program allows students who have graduated from certain post-secondary schools to get valuable work experience in Canada. The post-graduation work permit is temporary. The Canadian work experience you gain through a post-graduation work permit can help you qualify for permanent residence in Canada.

Permanent Residency Options
If you decide that you love Canada enough to live there after your study abroad experience, at that point you may consider moving in the wake of gaining your degree and obtaining at any rate a time of work understanding. Canadian migration licenses students to live in Canada for as long as three years after graduation, which is all that anyone could need - time to scan for and secure a job. When you have a vocation, getting permanent residency status gets simpler if you qualify for it. When you meet the base capabilities, you may apply for a visa for perpetual residency. Whenever affirmed, at that point you can live in Canada for an amazing remainder and this will fill in as a door to more significant compensations prompting a better way of life and facilities.
International Student Visa Information for Canadian Education
As a prerequisite for any type of degree or course, you'll have to obtain a Study Permit and a Temporary Resident Visa (TRV).
A study permit is a document that allows you to study in Canada while a TRV is a visa that allows you to enter in Canada.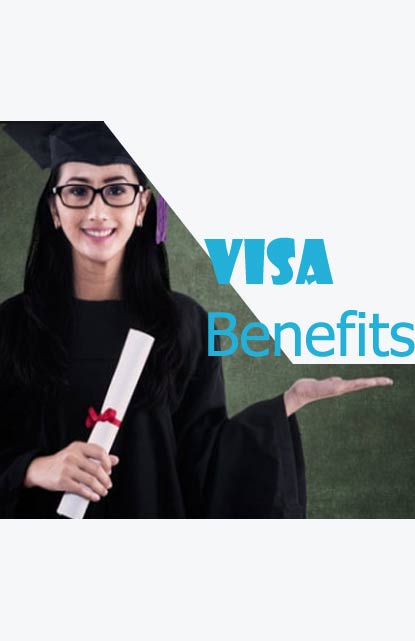 You can support yourself while studying in Canada with a part time job, you can work on or off-campus for up to 20 hours during university semesters and full-time during breaks such as the winter or summer holidays, without the need for a work permit.
Once you have completed your studies, under-graduate and post-graduate international students become eligible to apply for a Post-Graduation Work Permit (PGWP). This open work permit allows recent graduates to stay in Canada and seek employment anywhere in the country. Unlike other work permits, you are not tied to a specific employer and are allowed to pursue employment in almost any field.